Digital Banking UX Audit
Take your customer experience to the next level
Since 1999, Fintech Labs has been helping financial institutions perfect their UX/UI. We review the form and function of your entire digital experience via desktop, smartphone, tablet, voice and apps. Our mission: Make digital banking easier to use, more trustworthy, and used by all. Digital channels continue to grow in importance. But how do you know if they are as effective as they should be? Asking employees, vendors, or even customers can lead to bad decisions. They are often unaware of industry best practices. What you need is an unbiased, third-party review of your digital banking strengths and weaknesses along with realistic recommendations on how to improve. That's our specialty. We help financial institutions and banks take digital customer experience to the next level and increase your ROI!
We analyze and grade your digital banking channels against our proprietary customer experience framework of more than 400+ best-practice guidelines. Each is reviewed in detail and rated according to overall usability effectiveness. But we don't stop at merely identifying gaps, we tell you how to fix them in a cost-effective manner. Our review covers your public website, mobile apps, account opening forms & onboarding, and online banking.  We deliver a prioritized report and action plan for a fraction of the cost of doing the work yourself. Each project is custom-tailored to your needs. But typically, we look at the following areas: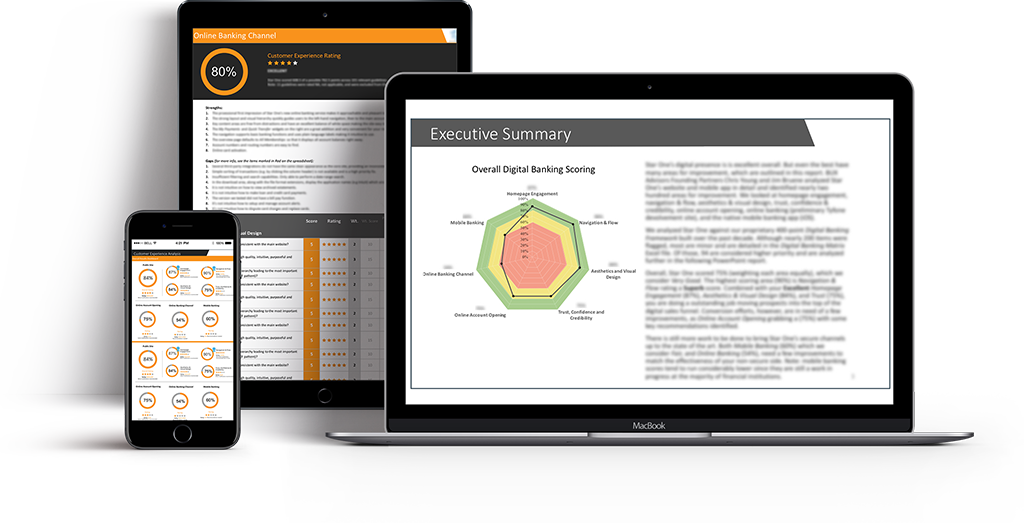 Account Opening & Onboarding
Promotions & Sales Funnel
Our actionable fintech insights provide your team with the information they need to improve the overall customer's digital experience. Financial institutions that follow best-practice UX guidelines on their websites, apps and digital offerings have increased conversion rates, higher engagement rates, and a more loyal customer base. And your satisfaction is 100% guaranteed, always.
Download our FREE checklist, 100 Improvements for Digital Account Opening & Onboarding. Optimizing digital account opening and onboarding of your for your financial institution and fintech can provide an ROI of 100% or more. If you are ready to measurably improve your results within weeks, fill up the form below and the free eBook will be delivered to you!
BUX Certified Digital Banking
BUX Certified is a worldwide accreditation program recognizing the best of the best in digital banking.
Why Get Certified?
Launched in Q1 2018, BUX Certified is the new competitive edge for banks and credit unions. It immediately sets you apart as a business that cares about digital banking and UX.  In addition, during the audit process, you'll receive dozens of recommendations for improvement of your UX.
7 Reasons to Get Certified
Improve the effectiveness of digital banking
Obtain an independent validation of superior customer experience
Drive more revenue by building consumer trust and confidence
Receive new insights to improve digital banking (which leads to increase in digital investments)
Increase conversion, customer satisfaction, loyalty and retention
Display the Excellence in Digital Banking seal